THE AUSTRALIAN WEEK AT CEERRF
CEERRF had the privilege of welcoming Mrs Robyn McArthur, a physiotherapist based in Brisbane, who shared her knowledge and experience with our students during the Australian week.
This intense immersion allowed third-year students to receive in-depth training on "Return to Play and Common Injuries."
Here is a summary of the key points covered during this enriching educational week through the testimonial of Camille F. third-year student and Erasmus ambassador in our school.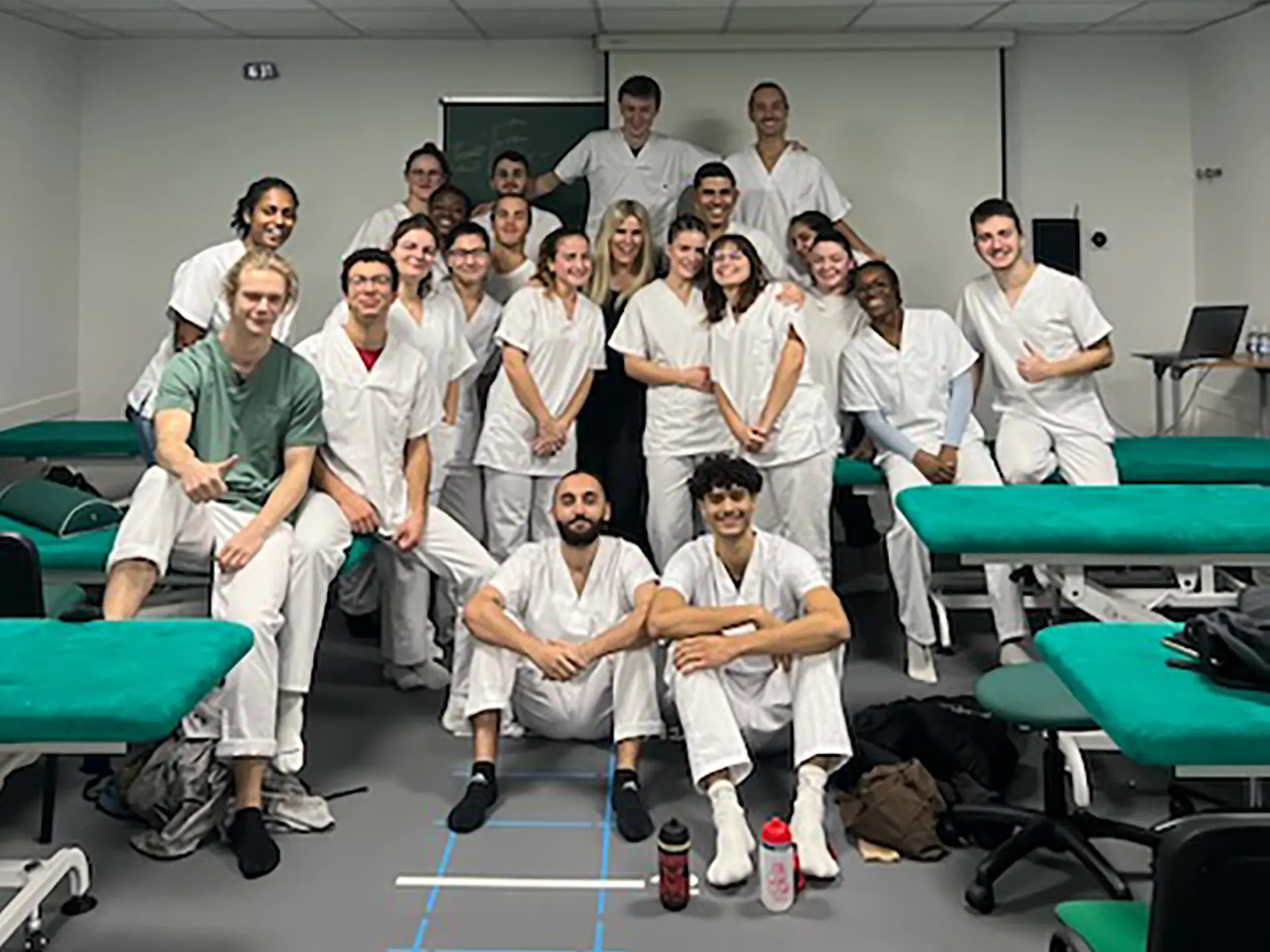 During the practical work on 'Return to Play and Common Injuries' in physiotherapy, our third-year group gained a deep insight into this crucial phase of athlete rehabilitation. Here is a summary of the key points we covered during this enlightening session :
1 – Management of rotator cuff-related shoulder pain
We proposed analgesic management followed by exercises. The goal was to develop a progressive approach to enable the patient to regain skills while minimizing the risk of re-injury.
2 – Management of lateral epicondylitis (tennis elbow)
We learned new tests such as the Cozen's test and the Mill's test, as well as the use of K-taping to alleviate patient pain.
3 – Management of Achilles tendinopathy
We learned the goals to achieve for patients before returning to sports (e.g., running) and the strategies to achieve them.
4 – Management after a meniscal injury
We reviewed various tests to confirm a meniscal injury if not yet diagnosed: Applay's test, Thessaly's test, and Mc Murray's sign.
5 – Management of shin splints
We developed 4 grades to quantify shin splints: 1 = pain occurs after physical activity; 2 = pain occurs before and after physical activity; 3 = constant mechanical-type pain; 4 = inflammatory-type pain. We then proposed progressive strengthening exercises, especially for the anterior tibialis.
6 – Management of a patient with a concussion
Group 33 learned about the standardized evaluation tool "SCAT 5" during the assessment of concussions.
7 – Management of low back pain
We learned the importance of good therapeutic education for the patient, especially for those with chronic pain. Subsequently, students proposed low-intensity exercises for acute low back pain management.
McArthur brought us a new approach, allowing us to complement our therapeutic strategy. This sometimes different approach from what we see in France enables us to step out of our comfort zone and confront other practices/solutions for managing common pathologies and respecting 'Return to play'.
In conclusion, Ms. Robyn McArthur's intervention was a real opportunity for our students. Her expertise, gained during her two internships in France during her Australian physiotherapy training, enriched our experience by sharing her unique perspective as a former student undertaking international internships. Her passion for our country and her appreciation of French manual therapy expertise were sources of inspiration for all of us. We are grateful for this collaboration and hope to continue sharing such experiences in the future.