THE UNITED STATES ALSO PARTICIPATED IN THE INTERNATIONAL WEEK OF CEERRF !
Intervenants : Paul Bliton & Raymond Butts
Des experts internationaux enrichissent la formation en kinésithérapie au CEERRF, pendant la semaine internationale.
Le CEERRF a eu le privilège d'accueillir deux experts internationaux de renom, le Dr Paul Bliton et le Dr Raymond Butts, pour des cours spécialisés dans le domaine de la kinésithérapie. Leurs interventions ont apporté une perspective complémentaire à celle des enseignements français et ont été hautement appréciées par les étudiants.
A fresh perspective on pain assessment and treatment
Dr Paul Bliton, Associate Director AAMT, shared his expertise in courses dedicated to neurodynamics of peripheral joints for third-year students and pain assessment in therapy for second-year students. His teachings allowed for an innovative and in-depth approach to pain management. Students were able to explore treatment techniques from a new angle, offering a deeper understanding and more diversified application. This approach expanded their view of physiotherapy and encouraged them to consider different approaches in their future practice.
Lumbar SIJ Mobilization/Manipulation and Thoracolumbar Joint Manipulation: Innovative Techniques for Musculoskeletal Disorders
Dr Raymond Butts, senior Physical Therapist at Palmetto Health Research Physical Therapy Specialists and AAMT coordinator, conducted courses focused on lumbar SIJ mobilization/manipulation for third-year students and thoracolumbar joint manipulation for second-year students. His expertise in musculoskeletal disorders added significant value to the education. Students were introduced to new treatment techniques that hadn't been covered in class before. They found these innovative and stimulating approaches, considering this opportunity as a real chance to enrich their therapeutic toolbox.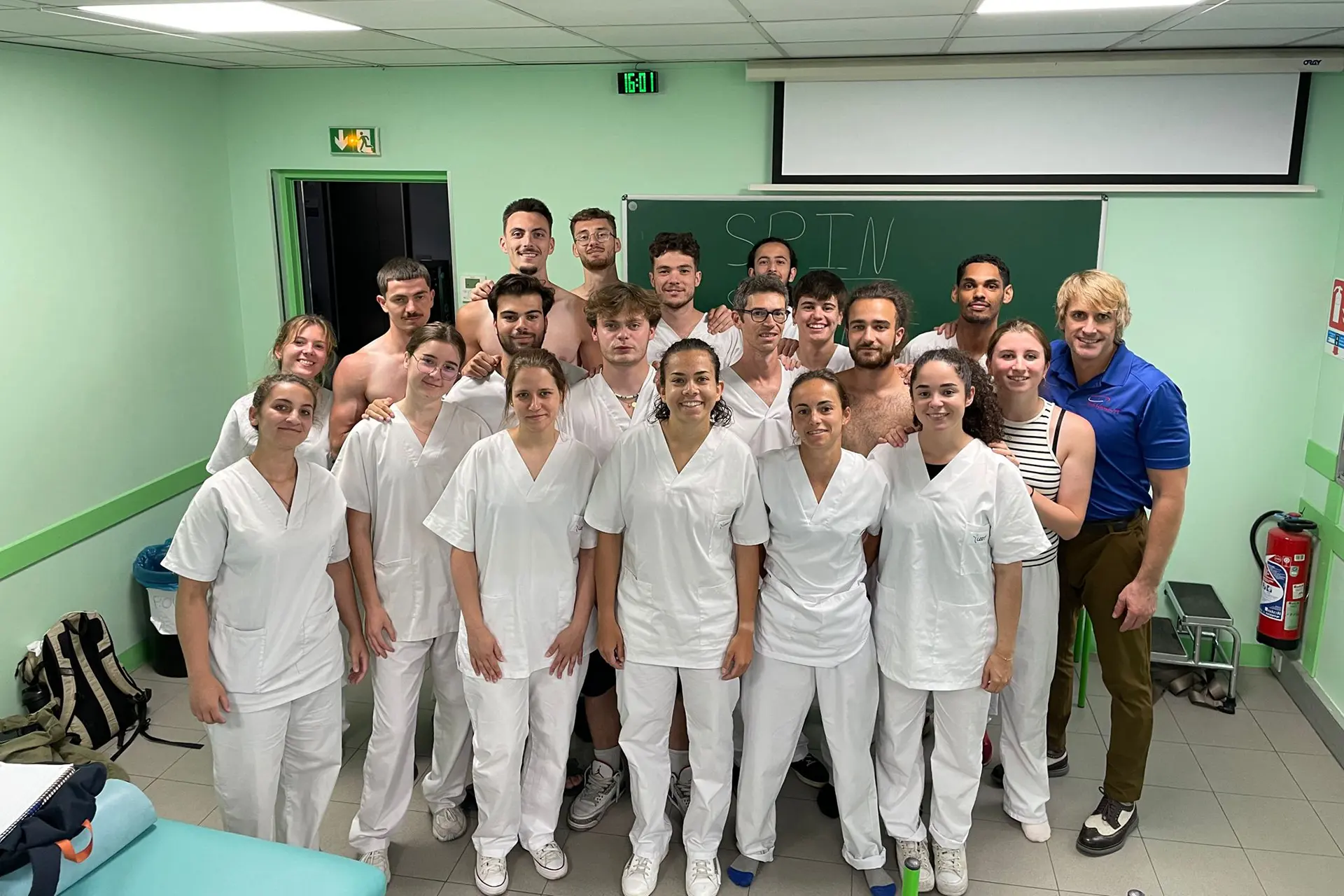 An open approach to exchange and dynamic energy for immersive education
The dynamic interventions of Dr. Ray Butts and Dr. Paul Bliton created an environment conducive to learning and exploring new perspectives. Students were thrilled to actively participate in real cases and tackle practical challenges. This interactive approach fostered the development of their critical thinking and the application of theoretical knowledge in a real context. Moreover, the teachers' language adaptability was highly valued, allowing all students to follow the courses and participate actively in discussions, thus enhancing their confidence and motivation.
In summary, Ray and Paul's interventions were a positive and enriching experience for physiotherapy students. Their open approach to exchange, presentation of techniques from a new angle, and introduction of new methods allowed students to deepen their knowledge, broaden their perspective, and develop practical skills. The teachers' dynamic energy promoted genuine interactive exchange, while their language adaptability enabled all students to participate actively. Students express their gratitude to Ray and Paul for their patience, expertise, and valuable contribution to their physiotherapy education journey.
We sincerely thank Dr. Paul Bliton and Dr. Raymond Butts for their dedication and significant contribution to the education of future physiotherapists at CEERRF. Their interventions have helped enhance the quality of our educational program. This enriching experience reflects our ongoing commitment to providing high-quality education, integrating best practices and international perspectives in the field of physiotherapy for a reflective and globally-oriented education.